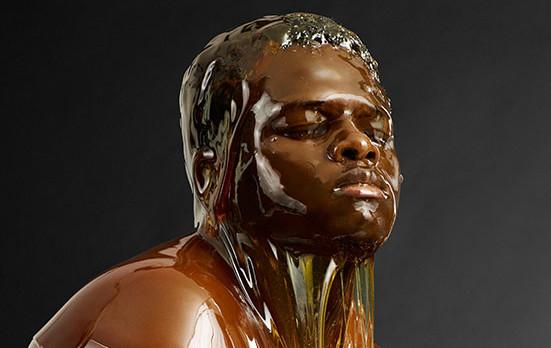 It's no mystery that, at the age of 49, Sherlock Holmes retired to the Sussex Downs, gave up being a detective, and devoted himself to beekeeping. What we don't know is what he did with all that honey?
The enigmatic Mr. Holmes is unlikely to ever divulge the answer, though he did let slip some of it went in little pots to the house of Dr. Watson, as Christmas presents for the doctor and his wife. Sherlock himself was surprised to learn that honey can be used as a form of expression. Dorian Gray told Holmes about the artist Blake Little and his most unusual photographs, taken between the years 2012 and 2014. Mr. Little, a portrait photographer, used over 4,000 pounds of honey, drenching his subjects–including a dog–with the golden elixir then capturing their images forever.  All of these delicious photographs, which have been compared to primordial beings trapped in amber, can be seen in Little's book Preservation.
Sherlock is a bit dumbfounded by the waste of it all. In his day one ate honey on scones, and was grateful for it.  Ought the product of the industrious bee wind up exploited in such a decadent manner? Is this art or mere frivolity? And exactly how long does it take to wash all that honey out of one's hair?
Source: Honey, I'm Home